Many Are Called, Few Are Chosen
In 2008 a group of fifty boaters were invited to embark on Vail Lake Temecula, CA for a day of bass fishing like none other. The fifty boaters were each taking service folks either currently stationed in our area, and/or recuperating their wounds in our local military hospitals. These were fine young men and women who gave up (or at least put on hold) their plans for college, career, and family, to serve our country so that we could continue on our paths of college, career, and family. They had lost time, freedom, and some even sacrificed parts of their bodies, to ensure our freedom, and our way of life. It was an honor for us fifty, and the large crew putting together the event, to show these warriors (heroes) a good time.
We did it again in 2009, and again in May 2010. During that event, I mentioned to Sandy Lehmkuhler, the director of The Rick Roberts' Warrior Foundation, about having a similar event on the fertile waters of San Diego Bay. She thought it was a great idea. The original plan was to have fifty boaters, and one hundred warriors - just like the Vail Lake tournaments.
Working with great people on projects like this, is the only way to make them happen. I immediate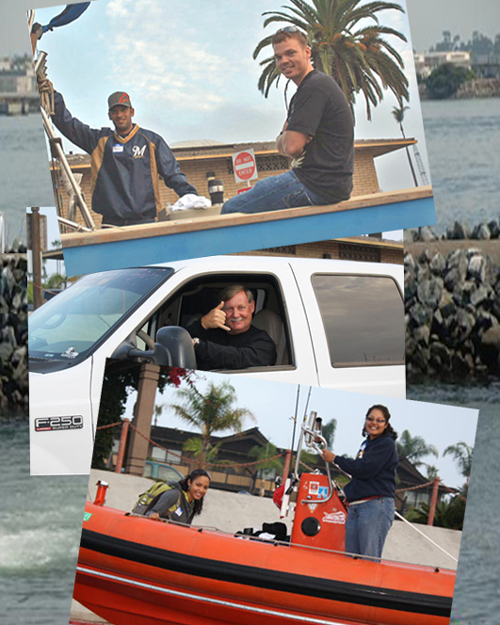 ly thought that this would be a perfect project for FOCAS (Fellowship Of Christian Anglers Society). Since the San Diego Chapter of FOCAS is not an evangelical group, but rather an outreach group, this tournament seemed like a perfect fit. Although our group does contain people who know a bit about running tournaments, we all agreed to seek help from a professional organization. We unanimously agreed to contact the folks at SWBA (Salt Water Bass Anglers). SWBA holds 6 team tournaments a year for their "Race for the Cup" format, plus directors James Shamblin and Eric Bent, are often found helping other just causes. It seemed like a perfect match.
Now we had to select a date. Sandy at the Warrior Foundation and I talked about three different dates. FOCAS only had a conflict with one of them. Of the tw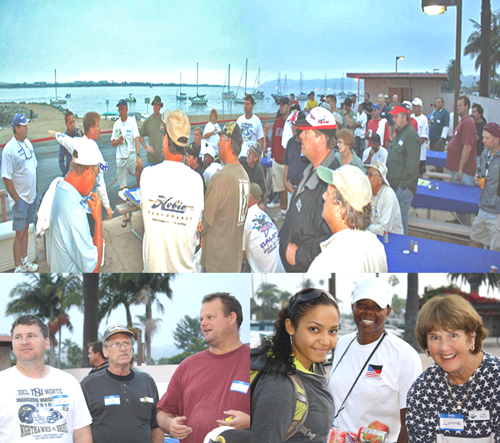 o left, SWBA was busy every weekend around them, including the one the rest of us favored the most. That left us with only one of the remaining dates making any sense. James, Eric, and I knew it would be a stretch because of their commitments on the bookending weekends of the proposed date, but we agreed that most of the leg work would be done by FOCAS. We picked a date, and went back to Sandy to get the ball rolling.
During the initial start-up, many hurdles came our way for location, times, permits, and then there were two big ones. It seemed that the Blue Angels had gotten a jump on us for the date. Not to worry, not all of the Wounded Warriors are into fast planes performing death defying acts of heroism. Oh, but there was also a luncheon with the pilots. Ugh! Sandy still felt confident we could get at least as many warriors as boaters. That's when I realized that our marketing strategy to get boaters was weak at best. At that point, we only had ten boaters signed up. What boaters we did have were thanks to SDFish. Back to James and Eric to see what ideas they had. Then more bad news; James and Eric had really overbooked themselves, as often happens with folks of good intentions, and they really didn't see how they could possibly help us on the chosen date. Here we were, six weeks until the tournament date, and we had no food; a couple of sponsors, some warriors, and no tournament director(s). Not going according to plan, but we had this desire to mo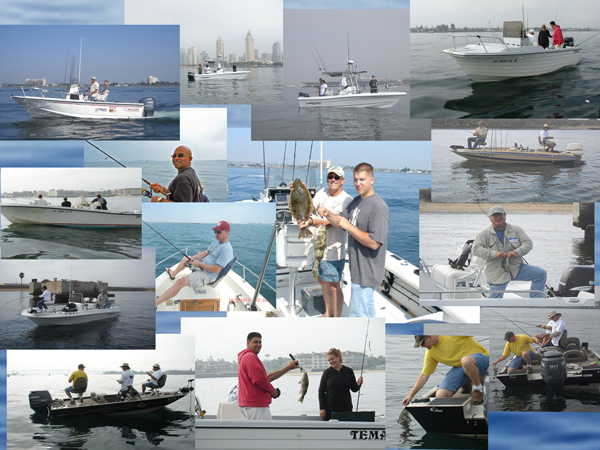 ve forward. And we did.
Coming to reality, we adjusted our goals. Sandy was confident she could get us 50-60 warriors, and I told her I would get her 30 boaters. We contacted all the help we could think of. We went on Rod and Reel Radio, Sandy went on The Rick Roberts Show, and Ed Zeralski gave us a little press. Then it was time to talk to the magic man. We called on Tommy Gomes of Uni-Butter, who not only donated enough product for every boater, but went on Bloody Decks to make sure we had enough boaters. It worked. We soon had more than thirty boaters. Then some dropped out, some added, some dropped, some added. This went on all the way until tournament morning.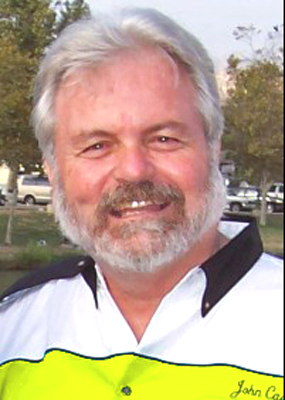 In the meantime, we contacted John Cassidy of WON Bass. We could not have found a better pick for a tournament director. John not only is the owner of Anglers Arsenal and Western Plastics, but also is a member of the Outboard Boating Club of San Diego (OBC). That association for John led us to the next group of people helping us with this great event. One of the hints that James Shamblin gave me at the beginning was to look for a place for ceremonies that was not on public land. Private property means no assembly and park use permit. Since we didn't have a direct sponsor for some of the other expenses, one less expense was getting us closer to making it all happen.
The ladies and gentlemen of the OBC were more than willing to open up their facilities to us; they also opened up their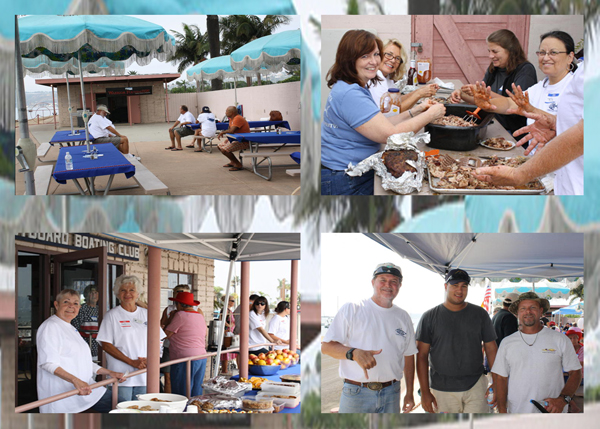 hearts. Before we knew it, we not only had our date and time, but now we had a location for the check-in and ceremonies, food, and the best support crew anybody could imagine.
Tournament check-in at the Outboard Boating Club was set at 0600 on 10-2-10. We had coffee, pastries, hard bolied eggs, and snacks galore for the boaters, warriors, and volunteers involved. There were goody bags for the boaters, plus we had a side pot for biggest bass, and f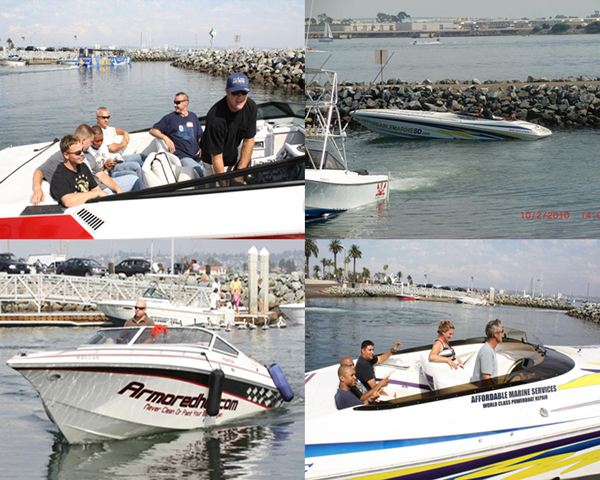 or biggest non-bass.
Out of the 40 boaters signed up, 35 arrived. Out of the 53 warriors signed up, 33 arrived. Apparently, the missing warriors, and their helpers were (last minute) assigned volunteership at the Blue Angels event. No worries. we made it work. Some boaters went home early, others teamed up to compete for the options, and yours truly got to take fellow guide Kelly Gleghorn and friend Micky Shaw to snap some on-the-water photos. All came back around 1300 for some incredible pulled pork sandwiches and fixens to die for. There were some really cool dudes offering free go-fast boat rides for the warriors.
And the Winners:
Well, quite frankly, all of us. But, in regards to the tournament, here is a list of the standings:
Place / Boat Capt / Warrior(s)
1 Dennis Burlason / Arron Zimmerman
2 Dave Graham / Duval Raines & Clif Howard / $125.00 for 3.36 Big Bass
3 Ed Howerton / Brian Lehmkuhler
4 Shawn Burnett / Jessie McCollough & Betsy Keranen
5 Bob Jennings / Randy Eastman
6 Rodney Melchart / Kevin Strauser & Tracy Carpenter
7 Louie Zimm / Alex Garza & Estephan Garza
8 Tommy Littell / Preston Larew & Michael Miller
9 Bill Harris / Joel Alvarez & Rebecca Alvarez
10 Brendan Meehan / Jim Moss
11 Mick Coy / Dung Cuong
12 Bill Hokstad / Juan Sanchez & Rob Hed
13 Richard Hargis / Dave Rohde
14 Mike Holtel / Stanley Andrews & Todd Simpson
15 Rob Morandi / Kelvin Scruggs & Todd Radosevich
16 Tom Buckalew / Mike Garcia & Larry Flaman / $135.00 for 8.00 Halibut
17 John Garrison / Randall Hodo
18 Doug Lancaster / Deborah Davison
19 Jimm Hoffman / Ysbell Taveras, Ynitsa Wiley
20 Mike Maxwell / Austin Leedom & Beverly Leedom

Some of the boaters had helping hands on deck. I am not sure I have all of the names for who was with who, but here are some of the names of the helpers that I could locate:
Ryker Acuna
Matt Grossman
Kevin Melchart
Scott Sherman
Jimmy Zimmerman
The following boat cap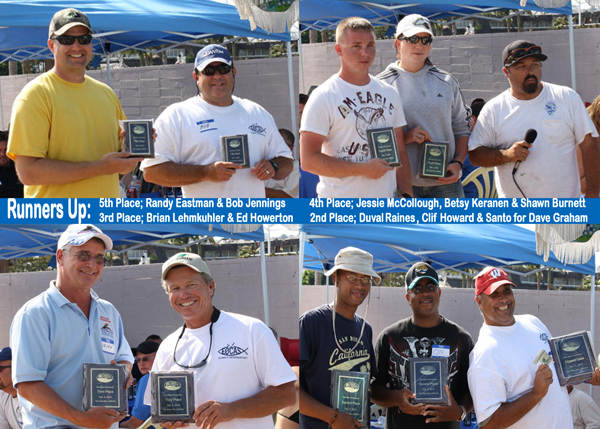 tains showed up to help, but had no warriors to take out. We want to thank them for their time, and their willingness to give.
Some went out solo, or with other helpers to compete for big bass, and big non-bass. Others helped us cruise for pictures. Thank you, one and all.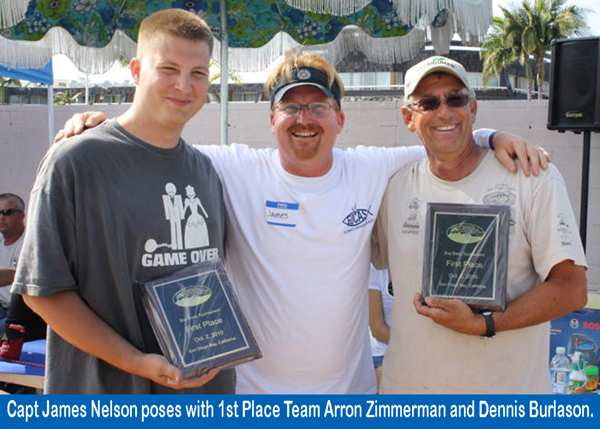 Dennis Allen
Lee Nichols
Nick Nichols
Paul Owens
Seth Paine
Mike Palmer
Dwayne Patenaude
Robert Ruff
Brian Runyan
Bill Schaefer
Tim Stipe
Mike Sur
Mike Tombleson
Howard Westney

A very big thank you to all who helped in any way. If I didn't mention your name personally, it's only because I did not see it written somewhere. You were a part of a very big group, and should be extremely proud for what you helped achieve. Thank you to all who have supplied us with pictures. I have made a slide show, please enjoy it.
Thank you all again, and may God bless you always,
James
We'd Like to Thank the Following for Their Support
All Outdoors Radio

Angler's Arsenal

Anthony's Fish Grotto

Barnacle Bill's Bait & Tackle

Berkley Gulp

Catalina Offshore Products

Claim Jumper Restaurants

Dixieline

El Cajon Ford

El Cajon Nameplates

Everingham Bros Bait Co.

New National Electric Works, Inc.

Old Town Trolley / San Diego Seal Tours

Popchips

Pro Build

Rod & Reel Radio

San Diego Outboard Boating Club

San Diego Sport Fish

Sea World

SPRO Sports Professionals

T & C Lures

The Fish Icon

Uni-Butter

United Drywallers, Inc.

Western Outdoors News

Western Plastics
We'd Like to Thank the Following for Their Support