San Diego Bay Bass Tactics
SAN DIEGO BAY BASS TOURNAMENT PROVEN TACTICS
With fishing, there are always ways to complicate things. Below are the simple basics that catch fish day in, day out.
1. Lead Head & Grub – You can't go wrong with this rig. Fish the shallows with a 3/8oz head and 3-4" grub, or try the deep areas with a ½-1oz head and a 4-6" grub.
2. Lead Head & Swim Tail – Another top producer. Fish the shallows with a darter head and 3" tail, or try the deep areas with a ½-1oz head and a 4-8" tail.
3. Slider Rig w/ Jerk Tail, or Shrimp Tail - A favored Halibut rig, this set up also catches big Sand Bass. Get it to the bottom, and sweep the rod, then drop it down for a bit, and do it again.
4. Dropshot – With the hook above the weight, this allows you to keep the bait presented in a suspended state. Twitch, swim, drag, and jerk this rig on deep channel ledges, and clam mounds for big Sand Bass, Spotted Bay Bass, and even Halibut.
5. Crank Baits and Spinnerbaits – Crank baits tend to work better near shallow grass beds, but Spinnerbaits can work in the deep water as well. This is especially true when using heavy, saltwater spinnerbaits.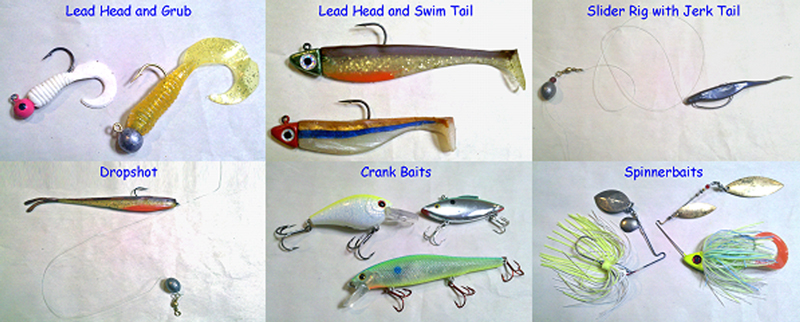 COMMON AREAS AND METHODS
Most of the Sand Bass, barred or spotted, will feed near the bottom. The bulk of their diets are from bottom dwelling critters like clams; crabs, shrimp, etc… So, you will want to keep your lures near the bottom. They will also eat fin fish like smelt; sardines, anchovies, lizard fish, mullet, etc… Below are typical areas to look for based on species. Be aware, all fish have their exceptions.
· Calico Bass - Mostly found on rocks and kelp areas where a fresh flow of tidal water can be found. Also look for bridge and pier pilings to hold some Calico Bass. These fish mostly respond to fast moving baits.
· Barred Sand Bass – Mostly found on channel ledges, and clam bed mounds. These fish like to feed on clams, but will often feed on anything that moves in front of them. Long lining, or drifting, the deep channel ledges from the mouth of the bay to the Coronado bridge will produce Sand Bass.
· Spotted Sand Bass – AKA Spotted Bay Bass. They are found almost anywhere there is water. These highly prolific mini groupers will eat anything that moves – slowly, or fast. They usually school up. Although bigger ones can be found on rocks, pier and bridge pilings, shipwrecks, and anything they can hide behind, most are found on eel grass beds, clam humps, and channel ledges. Spotties have been caught as shallow as 1 foot, and as deep as 62. Best areas are North Island, Ferry Landing Coronado, Tom Hamm's Light House, and any moored or docked boat.